Manage your GxP processes in good quality with QMex Cloud's advanced features and modules.
What is QMex Cloud
QMex Cloud is a software that is designed modularly to operate GxP processes electronically, hosted on customer-dedicatedservers on cloud, the modules of which can be integrated with each other and other corporate applications, compatible with 21 CFR Part 11 requirements and can be used over GAMP 5 validated internet browsers so that facilitates compliance with legal requirements.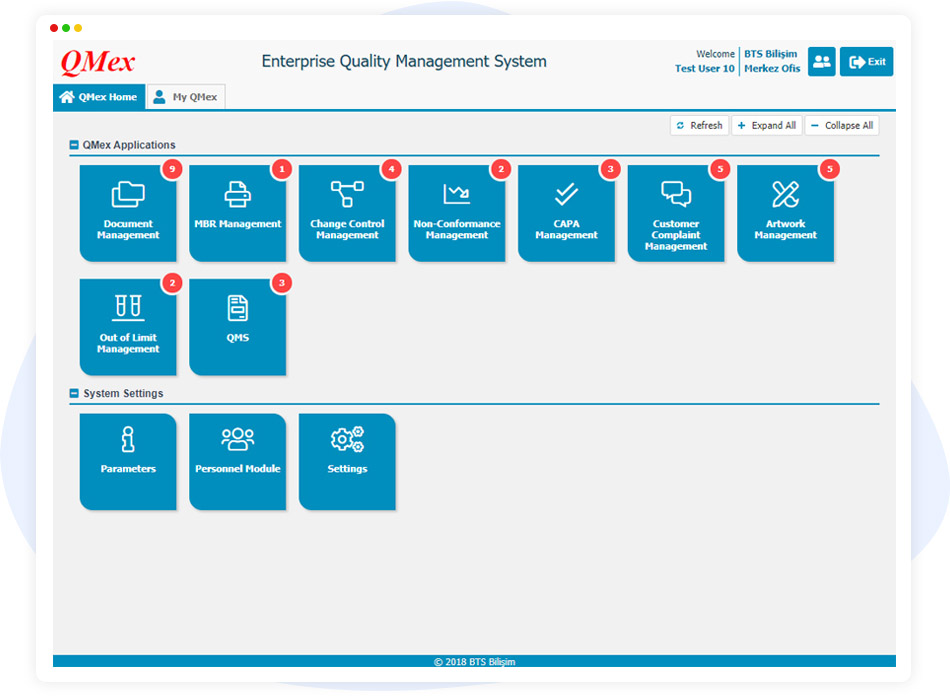 Powerful and safe key features of QMex Cloud
Secure
Data security is one of the key features of QMex Cloud. QMex Cloud has gained the trust of the market for years. Complies with 21 CFR Part 11 requirements.
Customizable
QMex Cloud is a ready-to-use product, it can be used immediately after the parameters are defined and validated after the installation. However, if desired, it can be customized according to your GxP processes.
Stable
As the data grows, it does not decrease performance, all functions work stably.
Validated
Validated according to GAMP 5. Validation documentation can be shared.
Flexible
Optionally, it can be licensed as cloud or on-premises.
QMex Cloud functions that make your job easier
Electronic signature
System and module based authorization
LDAP integration
Audit Trail
Registry history
Action-based and automated timely notifications
Personal Page: Pending Jobs, Delegated Jobs, Bookmarks
Dashboard
Graphic reporting
Trend reports
Validated reports
Printer-friendly versions of records
Configuration screens
Add multiple files
The Related Records screen, which allows you to view the records associated with each other
Multiple location support
Multi language support
Different reporting and sorting options
Integration between modules
Integration into all 3rd party software including ERPs
Powerful workflow management
User-friendly interfaces
Some of the processes we carry to the electronic environment on the
QMex Cloud

platform
Change Control Management
Non-Conformance Management
CAPA Management
Complaint Management
Document Management
MBR Control & Printing Management
Training Management
Audits and Inspection (Internal, External, Supplier) Management
Analytical Result Assessment (OoS / OoT) Management
Product Quality Review Management
Artwork Management
Risk Management
Pharmacovigilance (Adverse Reaction) Management
Supplier Qualification Management